Miss Parker specification



Homepage Miss Parker VirtuAL3101 Effect resources MFx News Links Contacts

General information Specification Technical details Miss Parker Plus Miss Parker Manager Download page


Specifications
This page gives some more details about the Miss Parker specification.

Here is a high-level block diagram of the Miss: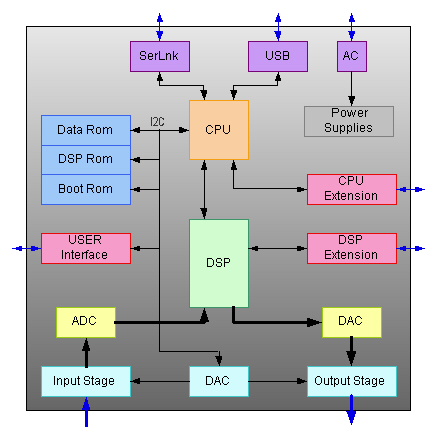 Basic facts about the components used are:
Signal processing: Wavefront 3101 DSP (formerly Alesis Semiconductors)
AD/DA: Wavefront 1201 ADC and Wavefront 1202 DAC.
Control: Cypress EZ-USB micro-controller:
1. 8051-core for its well-known architecture and tools availability.
2. USB interface for communication with the PC.
3. COM interface for MIDI and debugging purposes.

An EEPROM will be used to store the DSP application to allow stand-alone operation.
Two LEDs (including a bicolor one) will be used as status and peak information.
No battery is foreseen.

The controller part will handle:

5 A/D - 4 assignable potentiometers and 1 assignable expression pedal.
2 Outputs - bicolor LED for effect status.
1 Output - clipping LED. Peak detection will be handled by the DSP itself.
USB - interface from/to the PC using the HID class.
I˛C - communication with the EEPROM.
I˛C-like bus - serial DSP control
1 Input - "external" switch i.e. on/off.

An 8kB EEPROM contains the firmware for the micro-controller while a second one of 128kb contains the application and data memory for the DSP. Both are accessed through an I˛C bus.

A combination of DAC + VCA allows to adapt the gain of the input and output stages so that they can work with a guitar, keyboard, ...


First material
These are "pictures" from a mechanical simulation of the device: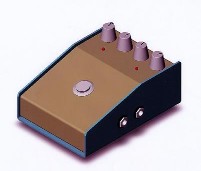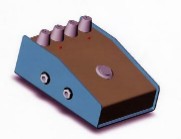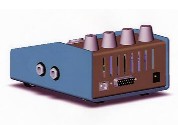 These are some pictures of the 1st prototype based on an EZ-USB and an AL3101 evaluation boards.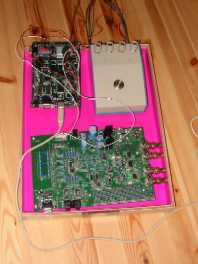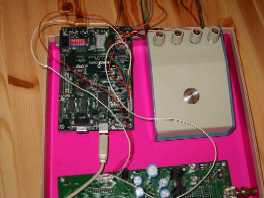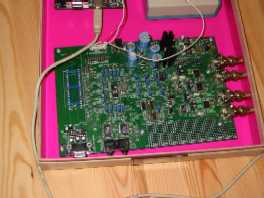 This prototype has been used to generate the phaser demo file. It can be found on the effect resources page.



Copyright © 2003 Axoris - Last modified: 2009-03-11